Translation and revision are almost always tasks that require some organization and management. We receive jobs from our clients, often with some additional resources, like TMs, TBs and references. We also need to be able to track our progress on jobs we do, which involve different tasks. All this led to introduction of project-based organization of work in CAT tools: to translate a document(s) you create a project in your tool of choice, import or select required resources and perform the tasks required for the job: analyze the documents against translation memories used in the project, maybe pre-translate the files and possibly customize some settings. After you finish the actual translation or revision, some other tasks may be required, for example bilingual export for backup purposes. In memoQ a lot of these tasks can be automated with project templates.
Projects are very convenient way of organizing and tracking translation-related work – you decide what resources you are going to use and what settings for things like QA, custom export path rules, user dictionaries or TM penalties. However, if you need to translate just one small file, creating a project may seem like a lot of work. And it may be true – modern CAT tools include option of drag-and-drop file translation or "Translate in/with XXX", where you don't have to click too much and you can jump to file translation. What you may not realize is that in this case a project is still created, it is just less visible to the user, because it's creation is automated with project templates.
Templates are a way of automating project creation: template settings are used for assigning or creating resources like TMs and TBs and various other aspects of the project. memoQ comes with several default templates for quick and easy project creation, and one of them (One TM and one TB per language pair) is by default used for projects created by dragging and dropping files into memoQ's "Start translating" Dashboard area. However, the memoQ templates give users a lot of options for automation of everyday tasks. Some of them are specific to project creation, like project naming rules, translation memories, term bases and various light resources with settings used in the project, but others can be an important help even in long-standing projects used for multiple jobs done for a particular client – this may include automatic analysis report of files added to the project and exporting a bilingual backup when you remove a file from the project. And more.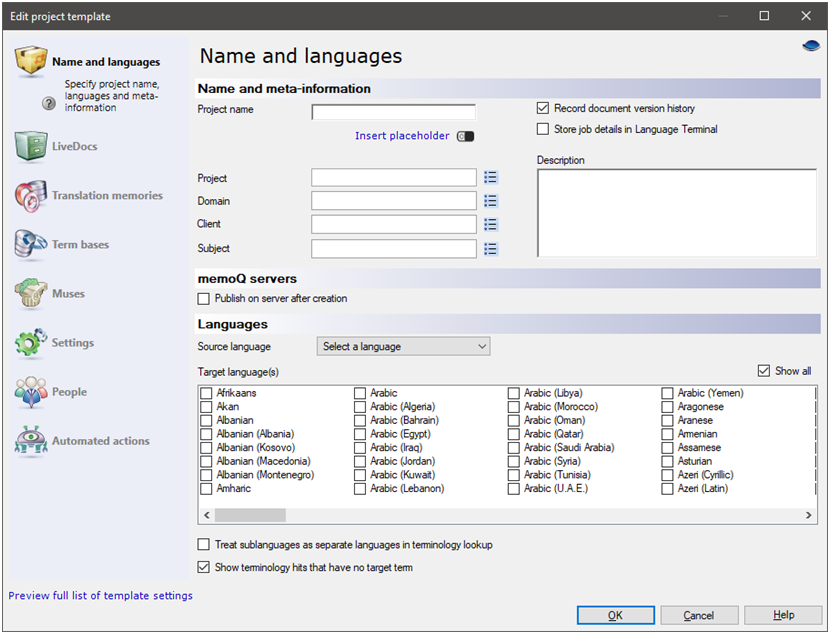 The templates offer different level of functionality depending on the license you have: PM license owners with access to memoQ TMS (memoQ server) have access to all functions of 'Translator Pro' license with some extras, which include greater variety of reports and automated action triggers (project milestones used to execute automated actions) and some server-specific tasks.
In general, for users with 'Translator Pro' license, memoQ templates can be used to automate the following:
Create a project with a pre-defined source language or language pair
Name a project according to pre-defined rules
Populate metadata fields with pre-defined values or values selected from pre-defined pick lists
Include any heavy resources (TMs, TBs, Muses and corpora): selected explicitly and/or automatically based on metadata (e.g. client name)
Include relevant light resources (e.g. export path rules, non-translatables, ignore lists, custom QA settings, etc.)
Apply file import filters with non-standard settings (e.g. import Word files with comments for translation or with change tracking)
Automatically apply custom file filters for defined file extensions and/or automatically select the correct filter for a given XML file type
Perform source file modifications before import (find & replace) and apply custom filters for one-step importing of non-standard files, and reverse changes on export
Automatically perform actions like analysis (Statistics) on files, pre-translate, X-translate, lock/unlock segments, export mono- and bilingual files at certain project milestones
Perform TM maintenance-related operations: confirm and update rows, delete working translation memories
Many memoQ users who discover templates try to create their own, but are often overwhelmed with the available options and quickly give up, sticking to manual project creation and loosing the potential benefits provided by the templates. But now there is a resource you can use to effectively employ memoQ templates: an eBook 'memoQ Inside Out: Templates for Translators'. This publication for memoQ users with 'Translator Pro' license provides a comprehensive overview of templates functionality, offering the following information:
Usage scenarios for templates, from very minimalistic (but still very helpful) to very complex ones, with descriptions of several sample templates.
Descriptions of default memoQ templates: what they do and how you can use them as a starting point for your own templates with similar functionality.
Information on how to create a project based on a particular template and customize template selection list.
Detailed description of all available templates settings, including automated actions, with information regarding usage scenarios for them.
Instructions on how to configure scripts that can be used for pre-processing of imported files and post-processing of exported files to customize files for import, e.g. for automated handling of normally not supported file formats; this also include 'Execute custom code' automated action.
 The eBook is available here: https://payhip.com/b/agrxM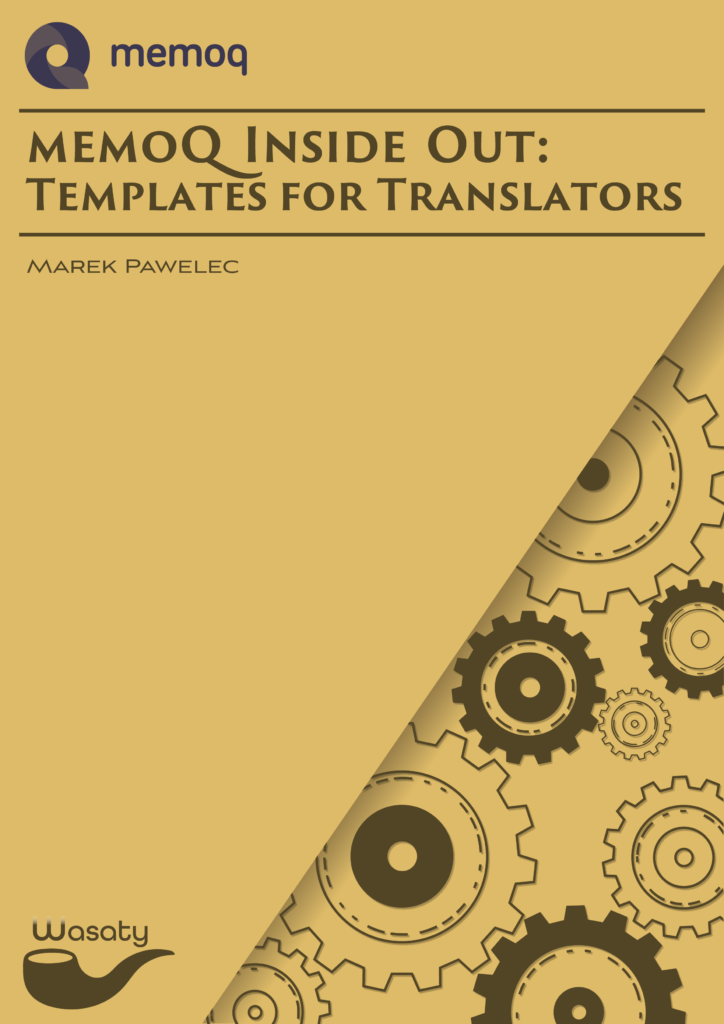 For a limited time this and other eBooks are available with a 20% discount: use promo code YFGQSKHBJM (valid until July 31st). If you are unsure abut the purchase, you can download a preview file with table of content and introductory chapter.
My other publications in the memoQ Inside Out series:
memoQ Inside Out: Machine Translation
The publication is a comprehensive overview of setting-up a machine translation with MT plug-ins available in memoQ, with information on various ways the MT content can be used, how to evaluate the usefulness of a particular MT engine in your work, how to hide the use of MT from your clients and tips on how to spot an MT use in memoQ, if you are a project manager. Pseudo-translation plug-in is also covered.
Available also in French, Dutch and Polish: https://payhip.com/Wasaty
Publication discussing all aspects of tags in memoQ: from the basic introduction to tags (what are they and why are they important) to various ways of tag insertion, commands available for tag handling, tag editing, conversion of text into tags (and back) and all other tag-related stuff.